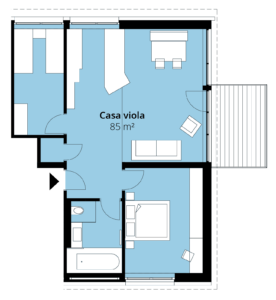 Casa Viola
This 85 m² Baadhaus apartment offers you plenty of space. Also on the first floor, it is suitable for 4 people. Both bedrooms have box-spring beds, the high-quality kitchen is fully equipped, and the bathroom has both shower and bath. Via the spacious lounge/diner area, which includes cable and Sky television, you have access to the 12 m² patio, which offers a magnificent view of the mountains and the water. On the ground floor, the wellness and sports area is available for you to use.
Book now!
Features
85 m² on the 1st floor, suitable for 4 people
View of the lake and the mountains
12 m² balcony
Bedroom with 180 x 200 cm (super king size) box-spring bed
Bedroom with 2x 80 x 200 cm box-spring beds (also as a double bed)
Open-plan lounge/diner with dining table, sofa, armchair + stool, cable + Sky TV
Fully equipped kitchen with fridge, induction hob, sink, microwave and dishwasher, Nespresso machine, toaster, kettle
Bathroom with shower, including towels and bathrobes
Included services
WLAN access
Access to the in-house wellness area
Access to the in-house sports area
Free e-scooter use
Free e-bike use
Charging station for e-cars
Fiat 500e Convertible for 90.00 € per day
Free Salzkammergut-Card (external link)
Optional cot
Book now!

Nice, new, large apartment with great location ☺ Famous location of Baadhaus just on Traunsee in very nice small city Traunkirchen. Owner family very friendly and helpful to recommend activities around (like hiking to Feuerkogel or to enjoy skywalk on Grunberg) . Hotel is "green" sustainable energy production. By recommendation of Josef (owner), we travel to Hallstatt via train where train station is just 5min walk. Our room had very nice terrace from which you can look on Traunsee as well to nice chapel up the hill.
☺Perfect

Místo i ubytování naprosto dokonalé. Majitelé velmi přátelský. ☺Místo i ubytování naprosto dokonalé. Majitelé velmi přátelský. Vždy hledáme ubytování v apartmánu a toto je zatím to nejlepší !!! Na 100% se vrátíme 🙂

Barbara
18 September 2023
Josef and Elizabeth were wonderful hosts. The accomodation was outstanding and in an excellent location. I would definit ☺ Excellent location and facilities
Jederzeit gerne wieder ☺Wunderschönes Apartment, tolle Küche, Fernseher, bequeme Betten, Tischtennistisch und Fitnessgeräte im Haus. Freundlicher Vermieter, der auf uns gewartet hat und uns in Kürze die wichtigsten Infos zum Ort, zur Umgebung und zur Unterkunft gegeben hat. Viele Ausflugsmöglichkeiten in der Umgebung, jederzeit gerne wieder.
Een super locatie en een super host. ☺De locatie en de gastheer ☹Vrij licht in de slaapkamer 's ochtends

☺Toll ausgestattete, gemütliche Ferienwohnung mit schönem Blick auf die Berge und dem klaren See gleich um die Ecke.
Heinz-joachim
27 August 2023
Bei uns hat alles gepasst. Das Wetter sowie die Unterkunft mit dem Balkon waren TOP. ☺Top Lage. Schnitt und Einrichtung des Appartements waren 1A. Schöner großer Balkon mit Blick auf den See und die Berge. Wir nutzten einige Male die E-Bikes und den Fitness-Raum und konnten unser Schlauchboot in der Garage am Haus abstellen. Da wir eine Woche mit Super-Wetter erwischten, waren wir jeden Tag im See baden und paddeln. Kleiner Geheimtipp: Die Langbath-Seen bei Ebensee - ca. 20 Minuten Fahrt von Traunkirchen aus, aber lohnt sich. Vielen Dank nochmal an unseren super netten und hilfsbereiten Gastgeber Josef, der immer ansprechbar war und es uns an nichts fehlen ließ. ☹Es gibt nichts zu bemängeln.
A serendipitous find led us to a quiet but fun week with the family, perfect holiday. ☺ Fantastic location on lake front, modern, bright, functional and clean apartment, very nice host. Free table tennis table and well equipped gym. Icecream place and excellent restaurant withing a few metres from the apartment, otherwise very quiet and peaceful. Our teens had a great time swimming and oaddling in the lake. ☹ On hot days the car park was quite busy. This said, Josef gave us a pass to park for free for the duration of our stay which was great.
Exceptional ☺ Very nice accommodation with well equipped kitchen. Very pleasant environment. The owner Josef was very nice and willing to help us with everything.
Martin Holzner
3 April 2023
Wir hatten ein paar sehr schöne Tage im Baadhaus! Josef und seine Familie waren super hilfsbereit mit allem! Der hauseigene Fiat 500, die Tischtennisplatte, die E-Bikes und natürlich die Nähe zum See waren echt toll!
Fahad Alshehri
12 November 2022
It's one of the best places we have stayed in during our visit to Austria. Mr. Josef was very kind and supportive with us. The apartment was clean, comfort, and very well equipped. In addition, it's just in front of the lake (with limited lake view) and in between of couple of good restaurants and a nice bar. The apartment is built in a modern-smart design, with everything you may need as a traveler from washing machine till the beer opener. It's a place that you book it for two nights then you find yourself asking for extended nights just because you feel you are in your home. Many thanks Mr. Josef. Sincerely, Fahad from Saudi Arabia.
Andrea Reinthaler
20 September 2022
Perfekte Ferienwohnung an einem perfekten Ort! Sehr schön und praktisch eingerichtet, Terrasse und Lage traumhaft! Sehr nette und hilfsbereite Gastgeber!
Ryan O'Donnell
4 August 2022
Added a photo from the balcony of the viola apartment and also from the grass "beach" access like 30 seconds walk away. The town is gorgeous, the apartment is fantastic and Josef and family are incredible hosts that will literally bend over backwards to make sure your stay is perfect. This was the first trip my wife and I took with our 3-month-old son and we made a great choice. The area is beautiful and there's so much to do. We stayed 4 days and we'll definitely be back next summer for probably a whole week. I wish I could give this place a 6/5!
Sehr schöne, moderne und top ausgestattete Appartements in bester Lage! Sauna, Fitnessraum, E-Roller, E-Bikes und E-Auto (dieses gegen Aufpreis) können genutzt werden. Der Josef ist ein super Gastgeber, immer hilfsbereit, mit guten Restaurants-/ Ausflugstipps für die Umgebung und einem sehr netten Willkommensgeschenk! Es war ein schöner Aufenthalt, uns hat es an nichts gefehlt und wir können es nur weiterempfehlen! Gerne wieder 🙂
Daniela Krammer
23 Juli 2022
Großartige Gastgeber einer sehr feinen Unterkunft.
Tolles neues Apartment Haus im historischen Ortszentrum von Traunkirchen. Direkt neben dem Seecafe Johannsberg mit seinen weithin bekannten und beliebten Eis-Spezialitäten.